If iSIM technology can be used in smartphones, how far is the retirement of SIM cards?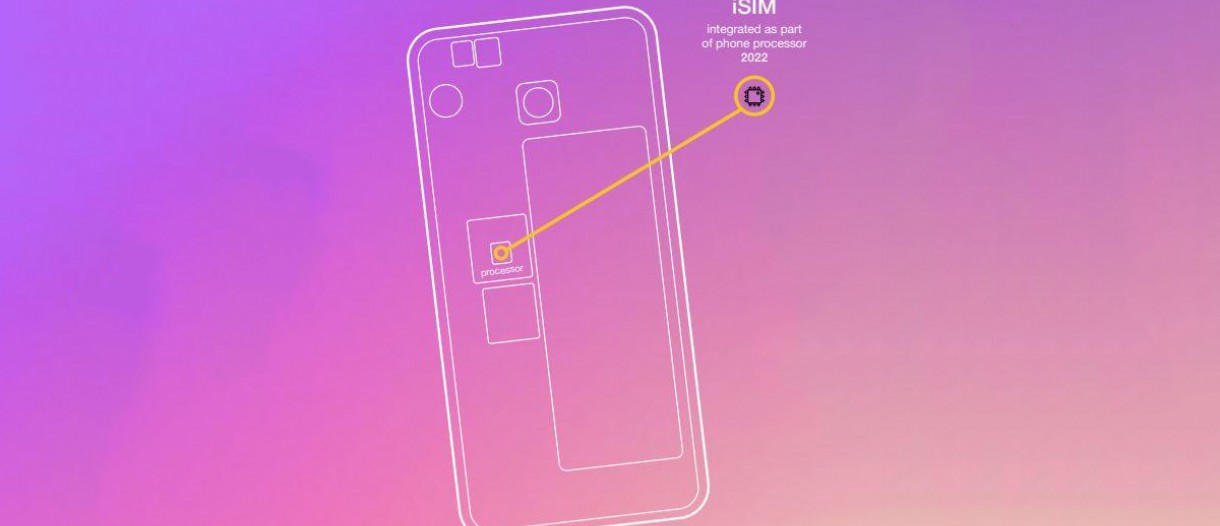 Qualcomm recently announced a partnership with Vodafone and Dalis to integrate SIM card functionality into the device's main processor to demonstrate smartphones with the new iSIM technology. This is the first time iSIM technology is used in a smartphone in the world.
iSIM technology for cell phones for the first time
Qualcomm is demonstrating the Samsung Galaxy Z Flip3 5G, powered by the Email 888 5G chip. Qualcomm said the technology is commercially available on many new devices that use iSIM to connect to mobile services. The media reported that the three companies are developing a new iSIM standard based on eSIM. iSIM integrates SIM technology directly into the device's main chipset, with key features that eliminate the need for physical space on the SIM card and combine eSIM advantages, including remote SIM configuration for carriers and higher security.
Qualcomm sees multiple advantages to iSIM technology.
Frees up space inside the device, simplifying and enhancing device design and performance.
Integrates SIM functionality with multiple key functions such as GPU, CPU and modem into the device host chipset.
Allows carriers to configure remote SIMs using existing eSIM infrastructures.
Adds mobile service connectivity to a wide range of devices that previously could not have built-in SIM functionality.
Enables integration of mobile services into devices other than cell phones, including AR/VR, tablets, wearables, etc.
Qualcomm demonstrated iSIM technology three years ago at MWC19 in Shanghai, when it was a pure software solution that directly "emulated" a SIM card with encryption, authentication and storage functions using a security module integrated into Qualcomm's mobile platform. Compared to this time, Qualcomm's iSIM technology is more usable as it integrates hardware and software directly into the handset.
Qualcomm is not the first company to come up with the idea of iSIM – as early as 2018, ARM made public its iSIM technology, which integrates SIM cards with ARM-based SoCs to enable electronic devices such as cell phones to communicate with carriers. iSIM technology from ARM includes the Kigen OS system and a separate hardware block for secure encryption, which also integrates the mobile application processor, baseband chip and SIM card into a single chip. ARM's iSIM technology includes the Kigen OS system and a secure and encrypted separate hardware block.
It is easy to see that iSIM is a technology that is in line with the future development trend and is poised to replace physical SIM cards and eSIMs.
The game between chip makers and telecom companies
For most users, most electronic devices are still physical SIM cards. With the shift from feature phones to smartphones, SIM cards are also changing from ordinary SIM cards to Nano SIM cards, which are getting smaller and smaller (from 25×15×0.8mm to 12.3×8.8×0.7mm).
But even so, the Nano SIM card still takes up a lot of space, watches, glasses and other smart wearable devices, the physical SIM card is like a "giant". In order to solve this embarrassing dilemma, GSM Association released programmable SIM card, i.e. eSIM card, in early 2016, mainly for wearable devices, Internet of Things, tablet and other devices.
From the perspective of the industry environment at that time, eSIM was actually a result of the industry's development demand – to provide basic connectivity for the coming era of interconnection of all things. According to data, by 2025, the number of IoT connections will reach 10 billion, and the demand for SIMs based on hive network management will reach 30 billion. eSIM will account for most of the IoT SIM market.
Unlike the physical SIM card, eSIM can be directly integrated into the device without the need of reserving a card slot in the terminal device, and the problem of poor access and easy loss and damage is also reduced. In addition, eSIM corresponding numbers can be downloaded remotely and switched with telecommunication providers at will, and the risk of SIM card duplication is reduced.
To some extent eSIM and iSIM have similar features, but the biggest difference is the built-in strategy – eSIM is a dedicated chip that connects to the processor, but iSIM is embedded in the main SoC along with the device processor; the latter is more integrated.
The iSIM is compliant with GSMA (Global System for Mobile Association) specifications and allows for increased memory capacity, enhanced performance and higher system integration. With the introduction of the iSIM card, the single chip is no longer required as with the eSIM, eliminating the dedicated space allocated for SIM services and embedding it directly into the device application processor.
Despite the advantages of eSIM and iSIM over physical SIM cards, there are not many applications for eSIM and iSIM, especially the latter, in terms of practical applications. According to the industry, "iSIM is an upgrade on the basis of eSIM, and there is not much difficulty to realize the application of iSIM technology, but the real difficulty lies with the telecommunication companies.
To realize the application of iSIM technology, chip makers, handset makers and telecom operators are indispensable. From the actual situation, chip makers are actively promoting, and for cell phone makers, the lack of SIM card is more beneficial than harmful to the internal space of cell phone, but only for telecommunication companies, iSIM has encountered obstacles. If the telecoms are completely open and let the chip makers integrate the SIM card function into the SoC, users will be able to switch the telecoms by themselves, and the telecoms will lose their meaning to the users and their main profit source will be greatly reduced. Obviously, this is not something the carriers want to see.
According to Counterpoint Research, iSIM is expected to be supported by nearly 5 billion consumer electronics products by 2025, with smartphones, smartwatches, CPE (client devices) and other major application teams. It is easy to imagine that if iSIM can be used in smart phones and other smart electronic devices, SIM cards are not far away from being retired.